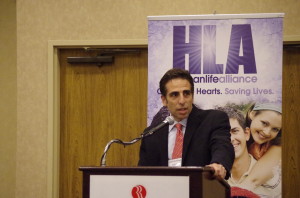 The second speaker last night was Bobby Schindler brother of Terry Schiavo and director of Terri Schiavo Life & Hope Network.
We've lost food and water battle, it's been redefined (from essentials to medical treatment). And even can be hard to prevent withholding of food and water, even if people have expressed wishes against it.
We're not talking about people dying. (And there are times when it may be appropriate to stop ventilators, or food and water.)
We're dealing specifically with people who are not dying, and food and water is being denied to them.
Terri could be here today if she was still alive she would just need a wheelchair. And she would have a severe cognitive disability.
Medical ethics is having a huge impact on our society and encouraging DRs to make decisions based on quality of life
And the biggest problem is the Medical ethics of the personhood theory.
Secular media is adopting it and is trying to desensitize culture and justify the death of Terri.
The medical ethics believes there is such a thing as a Human Non-Person, and it should be up to us to kill them.
New grim reapers essay by Wesley Smith
"what counts morally is not being "human" but being a "person," a status earned by possessing identifiable mental capabilities such as being self-aware or having the ability to engage in rational behavior. While the exact criteria for determining who is and who is not a person are still being debated, most bioethicists agree that there are human beings who are not persons."
Who are they? Embryos, fetuses, Alzheimer's, comatose, babies, etc. at the same time they believe some animals can be defined as persons.
Peter Singer is father of this movement. From Princeton
Professor Allen of the UF thought Terri was not a person.
Bobby believes 10-100,000 people are being euthanized with this theory as a rationalization.
IPAB, Death Panels, etc. Obamacare is raising the issue's awareness for us.
People in car accidents, DRs trying to make end of life decisions before patient has a chance to live. But when you add in the Organ Donation program, pressure is put on the family to "help someone else". Even before a chance is given to the patient to live.
We look at someone because their physical appearance has changed, that they are less than us.
People are Rationalizing killing people in horrible and barbaric ways.
If we purposefully starve or dehydrate an animal we'd go to jail, but it's now considered a fine medical practice for humans.
99% of families who get over the initial part of a family member with disabilities, feel incredibly blessed by their family member.