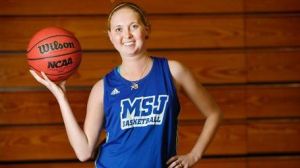 Here's Lauren Hill, a nineteen year old girl with brain cancer, with only weeks to live, who is living her life fully until the end, refusing to be "a quitter", showing us all the way to die with true dignity.
http://www.cbsnews.com/videos/girl-with-terminal-cancer-living-for-basketball/
What a great example Lauren is, particularly to those tempted to despair of life because of physical or mental illness, disability or other problems.  These are some of the people who, like the many people who committed suicide after the publicity surrounding the death of Marilyn Monroe, are being put in mortal peril by the glorification of suicide that is currently playing out in the media, violating all the suicide prevention guidelines of the World Health Organization and the National Institutes of Mental Health.
Why isn't this girl on the cover of People Magazine this week?  Why is the magazine romanticizing suicide and those who promote and facilitate it, when there are wonderful  alternatives?  True Dignity is  so grateful to CBS for showcasing one of them.
Lauren Hill is also spending her last days helping The Cure Starts Now, an organization raising money to find a cure for pediatric brain cancer.  True Dignity hopes everyone will donate at https://curestartsnow.z2systems.com/np/clients/curestartsnow/campaign.jsp?campaign=199&.
We also salute Lauren's college and coach, who demonstrate that they know that sports are for people, not the other way around, and the people of Lauren's town, who are coming out in great numbers to watch her play.