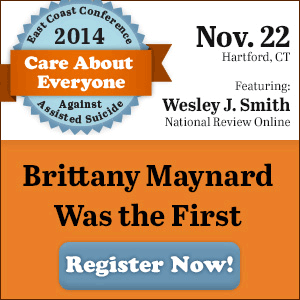 There will be a conference hosted by several East Coast groups Nov. 22 in Hartord CT.  Some great speakers will be present, including Nancy Elliot the former New Hampshire State Representative who helped orchestrate the astounding defeat of Assisted Suicide in New Hampshire this year.  Peter Wolfgang of Connecticut and John Kelly of Massachusetts who also helped lead the defeats in their states will also speak.
The keynote will be by Attorney and award winning author Wesley J. Smith a bioethics consultant and writer for the National Review Online.  Alex Shadenberg, an international leader in the fight against assisted will also speak. And there are still more great speakers!  For a full list visit their site.
This conference promises to be the premier event this year for those interested in learning more about Assisted Suicide on the east coast and the unique concerns of several New England states.
If you do go, tell us!  Though we are not sponsors of the event, some of the board members will be attending to report for True Dignity, so keep an eye and ear out.